Xiaoxiang Exhibition of International Printmaking
Antonietta Covino-Beehre's recent works 'Funny Money' and 'Lost on the Horizon' will form part of the
Xiaoxiang Exhibition of International Printmaking
.
The exhibition opens 15 November through to 30 November 2015 at Mei Lun Gallery, Hunan Fine Art Institute Changsha, China.
Antonietta Covino-Beehre's work 'Shadow of the Night' is included in the current exhibition
'Parallel Prints'
at the Gallery of Ballarat.
One exhibition, two countries - Parallel Prints presents the same exhibition at the Gallery of Ballarat and Art at Wharepuke, New Zealand.
The exhibition opens 3 October to 22 November 2015.
Fremantle Arts Centre Print Award 2015
Multiple Choices: 40 Years 40 Winners - 25 September 2015 - 15 November 2015
To celebrate forty years of the FAC Print Award,
Multiple Choices
brings together every winner in the Award's history.
Antonietta Covino-Beehre won the Print Award in 2003 with her work Studio d'una Citta.
IMPACT 9 - International Printmaking Conference
IMPACT 9
'Printmaking in the Post-Print Age'
China Academy of Art - Hangzhou
22 - 25 September 2015
Rings Road Student Finalists in Silk Cut Award 2015 for Linocut Prints
Rings Road Art Studio
students collaborative print 'The Masterpieces' is to be included in the exhibition of finalist (student section) in the 2015 Silk Cut Award for linocut prints. Offical opening Friday 4 September 2015.
Antonietta Covino-Beehre's work Carte Postale (Postcard) willl tour as part of the
'Thinking of Place'
travelling exhibition.

Next stop; The Depot Artspace, Auckland 29 August to 16 September 2015.
3Ps Painting, Photography & Printmaking
3Ps
a showcase of Painting, Photography and Printmaking - Gallery Ranfurlie

Gallery Ranfurlie - Korowa Anglican Girl's School
Opening Night: Thursday 27 August 2015
Viewing Dates: Friday 28 August through to Wednesday 2 September 2015.

Art Gallery of Ballarat

40 Lydiard Street North, Ballarat VIC 3350
14 March - 12 April 2015

Structures and Facades
- Antonietta Covino-Beehre and Emma Stoneman.
These recent works by Emma Stoneman and Antonietta Covino-Beehre comprise a series of inter-disciplinary works investigating the traces of corporality within virtual and physical spaces.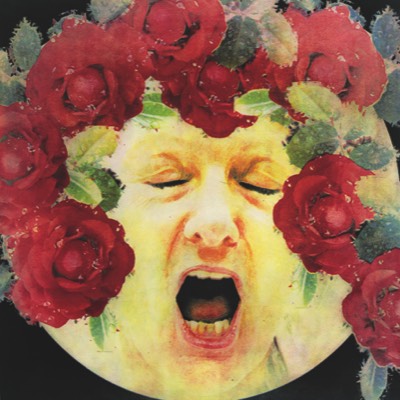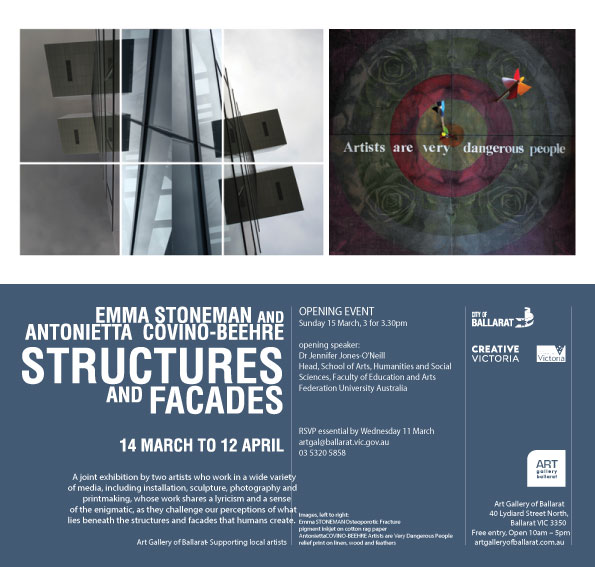 Double Entendre: Under the Southern Cross
The Gallery - Bayside Arts & Cultural Centre
Corner Carpenter & Wilson Streets (Entry on Wilson Street), Brighton, VIC 3186
17 January – 15 February 2015
Bringing together bodies of work by Antonietta Covino-Beehre and Marie-Louise Anderson, Double Entendre: Under the Southern Cross reflects the experience of an Australian way of life in relation to the land/landscape. This Access Gallery exhibition will include digital prints, etchings, lithographs, small installations and sculptures.

Inkmasters Print Exhibition